Its finally Friday! Yay, I am so glad for the weekend to be here, even though I work almost all Saturday. I am still excited to have Sunday off to spend some much needed, much missed quality time with my family.
I haven't done a Five Question Friday in so darn long, I thought it was just about time to start doing them again. :) So here it is, your Five Question Friday! Enjoy!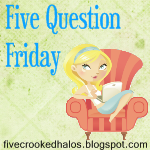 1. Do you swim in the winter?
I do actually lol. But that's only because I work at the YMCA and they have two olympic size swimming pools. I have started swimming at least once a week, because my midwife says its another good, low-key way to exercise while pregnant. I really enjoy it! But probably because its indoors lol. :P
2. Do you love or hate winter?
I was raised in Montana, in a very outdoorsy family, so yes lol I
LOVE
winter. We love to go out and sledding, play in the snow, go snowmobiling, and do other outdoor winter activities.
3. Do you put makeup/actual clothes on when you know you're going to be home all day with just family?
No way lol! I am a hippie first and a pregnant woman second. This means that I never wear makeup ever, and I normally don't dress up. Clothes are just things to keep me warm when needed, and decent for those who aren't comfortable with my nakedness lmao. :P So heck yes, I don't dress up when I am planning on staying home all day. I like to be comfortable and not look nice. Looks do not matter to me. :P
My attire at home is usually a comfy shirt, my undies (no I never wear pants at home lol, don't ask me why) and my socks. This is only if I don't have any company though lmao, I always throw on more clothing when people come over.
4. How old were you when you had your first alcoholic beverage?
I went through a rowdy year or two lol right out of highschool, so I was about 18 or 19 when I had my first drink. The funny thing is, because of my rowdy years back then, I never have the desire to drink as an adult. I will drink socially, but even sometimes at social gatherings I will opt to not have a drink. And now, that I am pregnant, I play the part of DD for my hubby so that he can still have some fun. But the weirdo won't drink because I can't anymore lol. Dork!
5. How many ill calls in a 12 month period do you think are acceptable?
Ill calls? Does that mean times you are ill?
I am confused lol...
I think that only about six times in a 12 month period is good. But that's even pushing it for my family. All three of us have really high immune systems and get sick maybe once a year. And that is with Alan and I going to daycare. Pretty impressive huh lol? :)