Happy Friday! Today I don't work so we don't have too much planned, but we will probably go do something fun with Grandma Melanie, Uncle Kalvin and cousin Morgan later tonight. Tomorrow we have cousin Sophie's birthday party and then the monster truck races, and on Sunday we are going to the Symphony in the Park. Busy weekend ahead! :)
Here is this week's Five Question Friday!!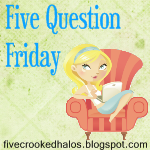 What do you keep a stock pile of?
Trident gum and some sort of smelly perfume lol.
Because this pregnant mama sometimes doesn't always get a chance to brush her teeth or shower, or comb her hair or even change her clothes... Lol in other words, sometimes I stink. :P Trident and smelly stuff usually helps to take the edge off.
If Ben & Jerry asked you to invent an ice cream, what would it be?
I am not too sure on what the name would be but it would have brownie chunks, peanut butter cups and chocolate chips in it. Mmmmmmmm...
How do you blow off steam?
Meditation and yoga, all the way. I meditate everyday right now for about thirty minutes (it used to be a whole hour but with all the preparations for Anna and caring for Alan, I only have time for thirty minutes) and then three times a week (or whenever needed lol) I do yoga. It helps keep me centered and cope with all my stress, plus its has the added benefit of labor preparation! :)
What would you do if you had an hour to yourself anywhere within a ten mile radius of your home...no kids, no hubby, just you?
Do you really want to know lol?
I would probably lose it completely.
I am never away from both my son and my husband, my son is always with me pretty much and Lon is consistently with me as well, unless he is at work. I truly don't think I would know what to do with myself... Maybe take a nap? Or read a book? Possibly a hot shower?? But I can do all that with Alan in my care too. I usually do all those things when Alan is napping so it seems pointless to have him not with me to do those things. I dunno lol. Maybe I am too much of a protective mama?
When you were 16, what was your curfew in the summertime?
Midnight was my curfew pretty much year round when I was sixteen, but that was for different reasons than most teens. My curfew was set so late because by sixteen I was working 30 to 40 hours a week and closing down the restaurant, so I would not be off of work sometimes until about midnight.
Be sure to check us out later to see how our busy weekend went! Hope everyone else has a great weekend too! I know we will, we can't wait! :)