Happy Friday! The Andersen family is sure enjoying this summer weather, we have been very busy keeping cool in the heat! Tuesday consisted of tricycle rides, popsicles, running through the sprinkler and playing in the mud. Wednesday we went outside with daycare and Thursday was Aunt April's dance recital. She did a beautiful job dancing! :) Today we went swimming at the pool at my work and it was the first time Alan had ever gone swimming in a deep pool. I was a little anxious but he did a wonderful job! He even let me float him on his belly and his back! I think its time to start swim lessons with mommy! :)
He looks unsure in this pic but he had a blast!
Here's this week's Five Question Friday! Enjoy! Remember to check out
my post about guest bloggers,
I have six so far that are participating but I would like at least four more! :)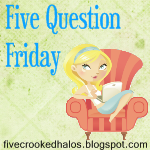 Did you do anything special for your kids on the last day of school? Or did you parents do anything special for you?
My son is not in preschool yet (hoping for this fall!) and my daughter is still in utero lol. :P So no. As for my parents? They usually didn't start our fun summer activities until the next week, but that was most likely because my mom is a teacher and needed the weekend to wind down and prepare for summer lol. I don't blame her! :)
What's your favorite summer tradition with your children?
Going camping. Sadly, this year we will not be making any camping trips due to Anna's due date being mid July. I do plan on having us take several day trips to nearby lakes though, which will satisfy my camping urges for now I suppose. :P
Enjoying a marshmellow, Fourth of July camping trip 2011
What was your favorite thing to do during the summer as a kid?
Probably the same thing lol. Camping, or maybe swimming. I was a little fish when I was a kid! You could barely keep me out of the water during the summer. I still enjoy swimming now, but its more awkward pregnant. It feels so weird to me when she kicks while I am in the water lol!
How old were you when you were married? Were you a Bridezilla?
I was 21 years old when I got married.
And I hate Bridezillas, so I was definitely not one lol. I was one of the most easy-going brides actually. I told my bridesmaids that they could do their hair and makeup how they wanted, as well as wear whatever jewelry and whatever colored shoes they wanted. My groomsmen got free reign of their outfits, as long as their were tuxedos lol. Definitely not a Bridezilla. :)
What is your favorite girl name? (I'm needing suggestions.)
I just adore the name Josephine but Lon does not like the name at all lol. So it was out for Anna's name. Not to mention we wanted to keep with the "A" theme for our children's names. But I think its such a nice, traditional name. I just love it!