Happy Friday everyone! I hope everyone has a great Saint Patrick's Day weekend, I know we do! :) Please make sure those that are drinking this weekend are making sure they have a designated driver take them home. Saint Patrick's Day should be a fun and safe holiday! Have a good one everyone!
Here's this week's Five Question Friday! Enjoy!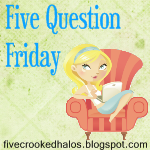 Will you run to the store or to pick up a kid looking a mess?
Yes I will lol. I don't care about my appearance too much, unless it is for a formal occasion. So most days, I look pretty slobby lol. Going to the store? Slobby. Going to a wedding? Dressed up. Going to my parent's house? Slobby. Going to a birthday party? Dressed up. This is how I normally will go lol. Especially since I am almost 23 weeks pregnant with a toddler as well.
Do you finish a book if it's boring or you don't like it?
Yes! I have always been a firm believer of finishing all books you start, whether they are worthy of you reading them or not. Sometimes I will go as far as to read several in a series even if I don't like them, just to make sure I truly don't. So this means I have read great classics like Walden 2, Twilight, New Moon, Running with Scissors, and even The Series of Unfortunate Events. Gag. :)
Beach or mountain vacations?
I'd have to say mountain vacations, but that's only because of my land locked position. I have only ever been to the beach once and yet have been to the mountains more times than I can count. I love the mountains and their beautiful serenity, but do enjoy the beach a lot as well. We will just have to wait until both Alan and Anna are a little older to go (like at least five lol).
What thing/event says "winter will end and spring is right around the corner" to you?
Spring comes in a lot of different ways for my family and I. Things like dance competitions starting. Breaking out the shorts and flip flops. Taking more walks on the Rims. The snow (where was it this year?) being replaced by sunshine and light rain showers. Aunt April's birthday and Easter Sunday.
Aunt April, Alan and Uncle Kalvin, Easter Sunday 2011
Would you prefer couples or family vacation?
Lon and I have never gone on a couples only vacation, but we have gone on a few family vacations. Most of them when Alan was a baby. So I would like to say a couples vacation, because it would be BEYOND awesome to be able to relax and do whatever just Lon and I wanted to do on vacation. But I am realistic and I know that we will always do family vacations lol. I would probably feel too guilty going somewhere just Lon and I! :)
Have a good weekend and a happy Saint Patrick's Day!!