I have been so excited now that we know the gender of our baby and are preparing to move into a bigger apartment, I have been planning Alan and Anna's shared bedroom for a while now. When I did Alan's nursery for the first time (he slept with us until he was nine months old), I didn't do too much. But this time around, I want to go all out! I love to decorate rooms and think that setting up this nursery will be a total blast! Alan's theme will be blues and reds with a cars and trucks theme, while Anna's will be purples and greens with a butterfly and sparrow theme. Maybe something like this:
We'll start with the girl stuff first...
I like the birds in this nursery a lot!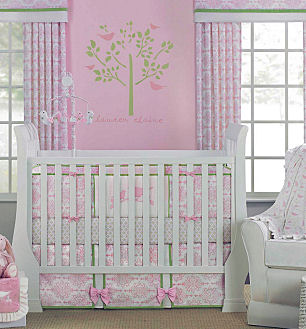 I love this nursery and especially the tree on the wall! Oh how I wish we could paint our walls!
Or this one with the butterflies, so cute!
And now for Alan's side of the room...
I love the cars on the wall in this bedroom! But we could do something similar with those wall stickers.
This one is so beyond cool, like I said earlier I WISH WE COULD PAINT!!!
This, however, is more feasible. Lon and I want to paint a few paintings for our walls, we could do this for both Alan and Anna.
I also want to do wooden letters with each of our kids' names on each side of the wall. I like the way that looks in nurseries, too cute! We will be getting both Alan and Anna new beds but for the first few months, Anna will be staying with us in our bedroom. We are looking at getting her either a bedside crib or a bassinet. Then, once Anna is sleeping fully through the night, we will move her into her crib with her brother. I just don't want to mess with Alan's sleep schedule, especially since he will be starting preschool this fall. Here are some ideas we have for their beds:
I have always wanted one of these Co-sleepers.
If we decided on a bassinet, this would be the one I would go with. So cute!
We got a similar crib for Alan when he was a baby. I like this design a lot.
And after a lot of thought and discussion, we decided a simple Toddler bed like this would be best for Alan. This one is perfect!
We will be putting all of their clothes in the closet, so no dressers will be necessary. With two beds already in the bedroom, we figured this would save the most space. :) So the only other items that will be in their bedroom really is the toy box. I've put a ton of thought into the toy box, and decided a bench one with three separate sections, mostly for Alan's toys but for Anna's as well when she gets older. Something like this would be perfect!
I am so very excited to start moving and start setting up their nursery! I wish we could just move NOW lol! :D We will hopefully start moving sometime this week and should be fully moved in by April. Of course, a lot of these nursery items will not arrive until the Baby Shower or closer to when she comes but its still fun to plan it all out! Now the waiting game begins though lol...