Yay! The weekend is almost here! I can't wait for Saturday to come so I can sit back and relax! Plus my mother and Aunt April return from Las Vegas tomorrow, we really miss them! Aunt April went up there for Thunderstruck Nationals, a dance competition and workshop. She gets to dance with memebers of SYTYCD! Lucky ducky! :D
Nothing too exciting is happening today, I work at three and Alan will be going with me. Boring lol! :P But today is my friend Jessica's due date and tomorrow is my cousin in law's due date, so be prepared for some new baby posts lol! They work perfectly with today's topic as well. :P
So for now, here's Toddler Talk Thursdays!! Enjoy!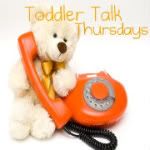 This Week's Topic:
How to handle bringing a new baby home with a toddler in the house?
This is something Lon and I have discussed over and over again. We are both from a family of six kids and understand how hard it is sometimes to get another sibling. I want almost as many kids as our parents had as well. :) So we will be treading very carefully with this one.
Our first plan is to wait. I wanted Alan to enjoy his first two years of life as an only child, so we are planning on waiting until after his first birthday to get pregnant. That way Alan and baby will be at least two and a half years apart. Plus this makes its easier on us to get him to understand that he will be getting a new sibling.
If you remember way back, I mentioned the WTE Kids books? Which I just
loooooooooooooooooooooove
by the way lol. Well they have a couple books about a second pregnancy or bringing the new baby home. Here's the pregnancy one:
Via
Well we would read those and talk about the new baby, as well as watch some videos. I know Seasame Street and Yo Gabba Gabba both have DVDs on new babies and such. We would also participate in this class that our town's hospital has called
I Was Here First.
Uncle Kalvin went with me to it when I was pregnant with Alan (he was only five at the time). The class talks with the kids about babies, plus teaches them basic safety lessons like not to feed baby anything but what mommy says, and how to help hold baby. Its a great class, Uncle Kalvin was nervous about not being "my baby" (he's my baby brother and I admittedly spoiled him back then lol) before the class, but was excited for Alan to come afterwards.
Then when baby did come, I'd have him have a special BIg Brother sleepover at Grandma Melanie's house while I delivered. Grandma would bring Alan up to the hospital after the delivery and Alan would get to meet his baby brother/sister for the first time there. I've heard its sometimes harder for toddlers to meet their new siblings for the first time at home, because of how personal the place is. So I will probably do their first meet up at the hospital.
Above all, what I want to do for Alan is let him know that he is not being replaced, and that I can have room in my heart to love him and all of his future siblings equally. It is hard, being a mom of multiple children, but I belive that I can do it! :)
How would you handle bringing a new baby home to your toddler???
Idea for Next Week's Topic:
How do you potty train your toddler?