Happy Friday everyone! Our weekend is a little busy, I work almost all day Saturday then Sunday is Mother's Day and my co-worker Jessica's wedding. Pretty excited for Sunday to say the least! :)
Here's this week's Five Question Friday! Enjoy!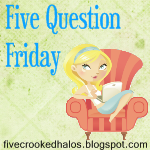 What advice would you give a couple getting married?
How coincidental that this is one of the questions, with the wedding on Sunday lol! :P
I would have to say... Communicate.
The most important thing for any couple to have is communication, in my opinion. Maybe that's just the point I am at in my life, but I feel that if you can't talk to your spouse and tell them EVERYTHING (and yes, I mean everything, what would you hide from your spouse?) then your relationship isn't as strong as it can be. Right now, Lon and I maybe see each other two hours a day. But I make sure that I am always in contact with him, always know what he is doing and how he is feeling, etc. This keeps our marriage strong and us happy.
If you could tell your 16 year old self ONE thing, what would it be?
Materials aren't everything, love is.
When I was sixteen, I was pregnant with Rosalie and engaged to a stupid boy. And materials did matter more to me than any companionship or love did. Not a hippie at all lol.
So glad I have changed my ways huh? I know I am!
What do you do to keep cool in the summer? (AC, windows, fans, swimming, etc.)
We almost have never had AC, so our house is always loud with the white noise sound of fans in the summer. I swear with the heat we get in Montana, we will have at least one fan in each room. If the fans aren't working for us, then we go to the pool or lake to swim.
If all else fails, a trip to a nicely air conditioned store always works for us lol. :P How white trash is that?
What did you (or your wife) crave most while pregnant?
With both of my children the cravings have been somewhat lacking, simply because of my morning sickness and weight gain issues. Normally I am too nauseous to be craving something, but when I do feel good it has always been something sweet. Chocolate, cake, brownies, ice cream, you name it, if I felt good, I probably craved it lol.
Who is your favorite TV mom? Why?
Hmmm, that's a hard one. Thanks to my pregnant brain and my lack of watching television for adults lately lol, I can't think of anyone but Michelle Dugger. She's not my favorite mom but I do have a lot of respect for her as a mother. I think it takes a lot of patience to raise 19 children and to homeschool all of them too. I don't have the same religious views as she does, but I do share a lot of the same parenting morals that she does. So for lack of a better choice, I am going with her.
I hope your weekend is great and your Mother's Day is awesome! Make sure all those moms you know get lots of love from you! Happy Mother's Day!