Happy Friday everyone! Today is Anna's two month birth anniversary. We are pretty excited! We don't have too much planned for today, except Sunday is Grandparents Day and Great Grandma Marcia's birthday. The zoo will be open to everyone for free that day so we will be taking a trip there with Grandma Melanie. So excited, we haven't been to the zoo in a few months or so and Anna has never gone! I will be sure to take lots of photos, Alan just loves it there.
Here is this week's Five Question Friday!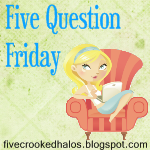 What is your favorite fall family tradition?
I seriously LOVE fall! I feel like I say that for every season but fall is my favorite this time around lol. And yes, I can do that. :P
My favorite fall family tradition is going to the pumpkin patch mid-October to explore the cornmaze and farm life, and to pick our pumpkins for Halloween. There is one main pumpkin patch/cornmaze in our town that we go to and I seriously look forward to it every year. It opened up this Labor Day weekend and I coyly asked Lon if we could go already and maybe go twice this year. He laughed at me and told me that we should probably only go once, like we do every year. He said to not ruin the magic of it. I personally don't think it will lol but I will just have to wait a few weeks until we can go! Can't wait!
If money weren't an issue, how many kids would you have?
Probably seven. That has always been my number since I was a kid. And now its perfect because I have five kids in my family and Lon has six kids, so seven would be the next number! :P Right? We should just do it then... Just kidding lol, nah! I think two or three or maybe even four will be good for us. I don't like ever setting a "number" for our family because then there is what would be considered an "accident" instead of a "surprise." So however many children Mother Nature blesses us with, we will be happy with.
But that's just me and my opinion. :)
If you were to get a tattoo, what would it be and where would you put it?
One of my most popular posts on here discusses my most recent need for a tattoo in honor of my son, and now my daughter too. I have been thinkng about what to get them and that post shows several ideas for what I have thought about doing for my son. I am currently leaning towards getting two more flower tattoos, one for Alan and one for Anna. They would also have their birthdates and times one there and I would probably get them over my shoulder blades, one on each side.
But I think that I won't get any for a while. Lon doesn't really like them (he is one hundred percent all natural) and I don't really like spending money on myself for things like that. I always think about all the things I could spend it all on instead of myself. Bills, food, gas, the kids. So who knows lol?
What condiment is a must in your house?
Ketchup.
I know, so simple and lame but my kid would honestly not eat half the things I cook him without it. Thankfully, I always buy organic ketchup with no added salt because that kid seriously would not eat without it. :P He puts ketchup on his chicken, hot dogs and sausage, hamburger, corn dogs,steak, GREEN BEANS, and a few other weird things that I can't currently think of. I'm running on two hours of sleep for the fourth day so its pretty impressive that I am even forming sentences right now lol.

How did your spouse/fiance propose?
In the silliest way. It was February 2011 and I was talking about Uncle Aaron's recent engagement and our year anniversary of common law marriage coming up with Lon on our bed. Lon looked up at me from what he was doing and said, "So are you saying that you want me to marry you?" Two months later we had our wedding at the Yellowstone County courthouse. Lol what a charmer I have found myself!
I hope you all have a great weekend. Don't forget that Sunday is Grandparent's Day! Do something special for your grandparents!