Hope everyone is having a good Tuesday. Today is my self-proclaimed day off of blogging lol, but I will be participating in the Top Two Tuesday from now on also. Here's an update on my morning still- Sleeting outside, no caffeine in the house, grumpy baby and grumpy daddy. Ugggggggh!!! Lol enjoy this post, and check out some archived posts too! :D Have an awesome day!
Top Two Tuesday!!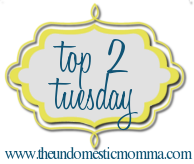 My Top Two Dream Rooms!
#1
A studio room
This may seem weird to some people, but I am a multimedia artist in many ways lol- I draw, I paint, I sculpt, I photograph and I also dance and sing. In my dream home, I want a room for Lon and I that has wooden floors for dancing on, a desk for my laptop computer with a photot printer, some ballet bars all along the inside wall, a decent amount of space to dance on, big windows lining the outside wall for natural sunlight, a big theater system for dancing, and a big cabinet in the corner for holding all of my art supplies. I desire this room so much, and though I know I will probably have to do a lot of construction to make this room. But I can still can still dream right???
Something like this but of course smaller and with...
(This photo thanks to http://www.schoolofdanceart.biz)
...an art space like this! :D
(This photo thanks to http://www.jenniferyoung.com)
#2
Alan's bedroom
I would love to give Alan a bigger bedroom for him to play in, now that he is coming up on the age of two. And by the time we buy our new house, he will be about three so it would be definite time for him to get a big boy bedroom. Alan's favorite thing of all time (besides his parents haha) is cars! He just loves cars and driving them and his favorite toy of all time is a Matchbox garage that Great Grandma Audrey got him for Christmas. I think that we would decorate his room in cars. I would get gim one of those cliche car toddler beds, a big red racecar. And we'd put his toy shelf in there, maybe paint some decorative cars on the side of it. Then possibly some cute paintings done by Lon or I of cars and other things he likes would hang on his wall. The walls themselves would be either a light blue or maybe a green of some shade. And we'd hang either orange or red curtains on the windows. Otherwise, real easy and simple. He's a toddler, so the most he'd want is a lot of play space lol. :)
This bedroom is cute, but I always pictured him in a...
(This photo thanks to http://www.furnitureusa.com)
...toddler bed more like this, Lightning McQueen style!
(This photo thanks to http://www.babycrib-toddlerbed.com)
Hope everyone has a great Tuesday! I'm looking forward to my two art classes, and one with Alan! Yeah hope he gets to see his little crush lol. :)