Can't wait for Alan's art class today at eleven! Its his last class of the month, and we are making paper bag puppets and doing a simple spring collage. Then at the end of class, we will have our art show for all Y members. Alan's been working on his colors and he'll impress all the girls at class lol, I just know it. :P And today is Lon's day off of work and my self proclaimed day off of blogging (even though I took a day off Sunday too lol). So please enjoy my Top 2 Tuesday and check out some archived blog posts today. I'm always adding new ones!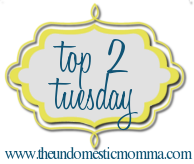 Top Two Celebrity Hairstyles

#1 Pixie Lott... Now I have honestly no idea who this celebrity is lol, but I always love the classic hippie braid headband look. :) I love how thick her braid is too! Love this hairstyle so much, and I haven't worn my hair like this for a while. Might wear it this way tomorrow. :)
(This photo thanks to http://www.sugarscape.com)
#2
Ashley Olson... Once again, its a braided do. But what can I say??? I'm a hippie lol, I'm a total sucker for braided hairdos. This one is just so elegant and medevil looking, I just love it. So pretty!
(This photo thanks to http://www.hairstyler.com)
Hope everyone has a great Tuesday! I'll talk to you all again on Wednesday! Peace! xoxo