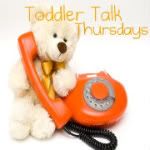 This week's topic:
If you could ask the author of What to Expect the Toddler Years, Heidi Murkoff, a question about toddlers, what would it be?
Oh I love What to Expect sooo much! Their book was my bible when I was pregnant and for Alan's first year and I am a part of their
community
online. :) They even have adorable toddler books that are meant to help kids learn "What to expect." Too sweet!
Via
I just love my September'09 Mamas so much, we are like sisters and I even refer to their children as Alan's cousins lol. We are a close knit group there. <3 I have a great amount of respect for Heidi Murkoff, for creating all of this. The What to Expect franchise helps so many new parents learn how to safely raise their children. Not everyone has a mother or sister or grandmother to walk them through their pregnancy, theirr labor and delivery, and the subsequent baby and toddler years but Heidi Murkoff has now provided everyone with that.
As for one question to ask her, now that's asking a lot. I have always been the researching, need-to-know kind of person and that was only amplified when I became a mother. As a mother, I have read WTE When You're Expecting and WTE: The First Year and started on WTE: The Second Year, spent endless hours online researching, quizzed thousands of successful mothers (even my own) and read millions of parenting books, pamphlets and magazines. And even though I have done all that research, I still have around fifty questions that I would ask the Great Heidi Murkoff. You see, this is what happens when book worms have children. :D
But for the sake of Toddler Talk Thursdays, I will play along. :)
I would ask Heidi for some tips on getting a toddler's teeth brushed.
Lol, I know its not phrased as a question and it sounds silly but ever since we switched from the finger (soft) toothbrush to the bristle (hard) toothbrush Alan has hated getting them brushed. I try to let him do it himself and when I do brush I don't brush hard at all, but he still loathes the activity all together. I hate seeing him anxious and distaught over something so petty, but I understand the importance of dental hygiene in toddlers. So I continue to fight him to brush twice a day lol. Oh motherhood. :)
Idea for next week's topic:
What did your husband and your toddler do for you for Mother's Day?