Good morning everyone! Today is Alan's LAST art class for the school year! :( He and his father get the summer break off from art class so that I can take Alan to swimming lessons and we can go camping several times in the summer, guilt-free. :) I'm still really said that its his last class with me for a while, he's only been going for 3 months now, but I'm already used to having him. Plus I love all the art work he makes each class. Our house walls have never been more decorated. :) Oh well, he will start up again in September. I just have to remember to grab my camera for pictures- today we have our family art show!
The Undomestic Mama has not posted a Top Two Tuesday blog hop yet, so I will go ahead with Oh Amanda's Top Ten Tuesday! Enjoy!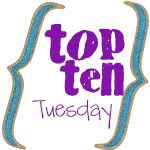 Top Ten Baby Names!!
***This baby names are copyrighted- In the sense that no one else in my family can steal these names for their own children!!! Lol not that anyone will want some of these names, they are German and Danish! That means they sound weird... But do you see my obsession with A names? Ahhhhhh!***
Odelle