Hope everyone has a wonderful day today! I know mine will be long and most likely stressful because I work from 10 am to 8 pm with a half an hour lunch break. But at least Saturday I only work two hours and then I have my childhood friend's baby shower. Then Sunday is Family Day and its also my good friend and co-worker Kari's graduation party. It will be a good weekend for us, and I'm so proud of Kari! Congratulations lady! I love you!
Me and the beautiful Kari!

The weather is starting to get better here in Billings. It has only rained lightly the past few days. I have been able to walk to and from work the past three days, and that has been an awesome stress reliever for me! I have to post about my theory on modern walking and pedestrian travel, hopefully sometime this weekend!
Here's Five Question Friday!! Enjoy!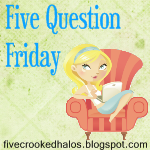 Do you apologize to your kids?
Of course I apologize to my kid and to all children, if I have made a mistake or an error in judgment. Children are people too, and if you make a mistake and catch yourself, you should apologize to them. It also shows the child that you respect them individually and see them on the same level. It can really help children developmentally to see adults make a mistake and then act responsibly by apologizing.
Now to get off my soap box lmao...
What color are your nails right now?
A mixture of lilac purple and natural nail color. From my wedding, which was like over a month ago lol. Is it okay to leave nail polish on that long???? :P
When you were growing up, how difficult was it for you to stay home from school sick? (As in, did you have to vomit or just say "I don't feel good".)
My mom is an elementary teacher lol, so it was always hard for any of us kids to stay home sick. We had to be vomiting or have a fever or be contagious to get out of school.
As an adult, I agree with what my mother did and will probably do the same for Alan.
When is the last time you bought a new comforter for your bed?
I have not bought a new comforter for our bed since before Alan was born. Thank goodness, we have received a new comforter every year for Christmas. So the last one we got was a pretty black patterned one that we got for Christmas in '10.
Favorite website(s)?
Blogger, Facebook, YouTube, and Twitter
Yep, I'm your basic social internet butterfly lol. My favorite websites are all social networks. But hey, its how I keep track of my family. :)