April's dance recital last night was just breathtaking. She and all of the other girls danced so beautifully! I was amazed at how much my former students have grown since I had last seen them. Those cute, silly 8 and 9 year old girls are now in high school and are beautiful young women. :) I saw one of my girls dance her solo and it brought me to tears. They are almost adults now. Where did the time go?
This also made me realize how fast my own baby sister was growing. Already 12 years old, and in a dance company, going to Las Vegas for Nationals this summer, dancing in a way that would make Mia Michaels faint, and cleaning up after her dance sisters. Wow. :)
Today feels kinda like a 3 post day to me lol. Already posted earlier this morning for
Rosalie's birthday,
and after I wanna write a more in depth post about Aunt April's recital. So stay tuned for another post later today! Have a great Friday and an awesome weekend!
Here's Five Question Friday!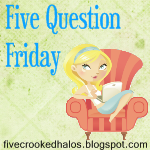 How close to your childhood dreams is your life now?
When I was little, I was a little wild and crazy. No really lol. :) When someone would ask me what I would want to be when I grew up, I would be known to spout off several different answers each time I was asked, depending on my mood.
A mom.
An Artist.
A veterinarian.
A teacher.
An author.
It was generally one of those answers. And surprisingly, as an adult, I have successfully done 4 out of 5 of those! I am a mom, an artist, an art teacher, and a modern author (I'm a professional blogger lol???).
So your answer is very close. :)
What is one must have item for the summer?
The mom in me is going to say
sunscreen.
The me in me (lol) is going to say water that you can swim in. Like a pool, a lake, even a river or a ditch. I'm a country girl, I don't mind swimming in ditches lol. :P
Do you have your kids stay up on school stuff during summer vacation? (Or, if you don't have kiddos, did your parents make you keep up on school stuff during summer?)
All I have to say is, my mom is a first grade teacher. :)
So when we were kids, she
TOTALLY
made us keep up with school stuff during summer. My mom never had to force me to keep up with reading though. Once I could read I was reading novels all summer, and my mom would actually have to make me stop to do other things, like eating and sleeping lol. But she is still keeping up with tradition
this
summer with Aunt April and Uncle Kalvin especially because Uncle Kalvin just learned how to read!
And with saying that, I went to college for teaching and am an art teacher. :)
So when Alan starts to go to school (which we decided will be when he's three), we will
TOTALLY
help him keep up with reading and school stuff during summer.
Do you can or freeze fresh produce?
Um, we
EAT
fresh produce lol.
If we buy fresh produce, we only buy so much and we usually eat it within the next three days. But we do buy canned and frozen produce as well. We just let the manufactorer's do the work for us lol. I know, I know, not very hippie like. :P
Do you get ready for the day first thing in the morning?
Nope. I normally get ready for the day right before we leave the house for the first time. We normally spend like three to five hours at home, in our skivies just chilling. Lol I won't get myself ready, or Alan ready, or the diaper bag packed until about an hour before we leave.
Have an awesome weekend!! We are hoping for sunshine so we can go
hiking
again!! Love everyone! Peace!