Today will be a nice day for us. I only work six hours today, and Alan gets to spend four of them with me! Yesterday he had a wonderful time with Korbin and his other daycare friends. We played outside, played with balls and tents, colored and of course played Alan's favorite- cars. :) Alan loves his Korbin, and we have to get in all the time we can because his family's moving at the end of this month! :( We will miss them so! In other good news, Lon has gotten a temporary job welding folf baskets, goals (???) for his good friend
Sean.
I am very proud and excited for my inventor! Congratulations hubby! :D
This weekend, a close family friend is getting married to the love of his life. :) Aw, I have been so mushy since Lon and I got married lol. I can't wait for this Saturday! I love this guy like a brother and have known him most of my life, and I can't wait to celebrate their love! This wedding will be a blast too, the one good thing about the couple being family friends is my ENTIRE family will be there to help Lon and I with Alan. Score us! We will both be celebrating, the
ADULT
way (with alcohol lol) and I am sooooooooo excited! For their love too lol! :P Congratulations Zach and Mara!
And now for Toddler Talk Thursdays! Enjoy everyone! :D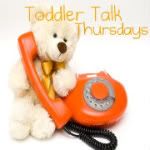 This week's topic is:
Travelling with a Toddler
I have yet to travel anywhere with Alan since his first birthday, but we will be going camping several times this summer. The idea of riding in any sort of vehicle with my toddler for over an hour is quite terrifying for me lol. *Gulps*
And if that isn't enough to scare me silly (which it
WAS
lol), we are hoping to make it to a WTE September'09 babies convention in Las Vegas in late August.
Which involves us taking our almost two year old on. a.
airplane.
For two endless (or so they'll feel that way) hours.
An airplane. This scares me for two irrational (according to the husband) reasons:
1- I don't want to be
that mom
with the screaming, running, crazy toddler on the airplane. And I know I inevitably will be, with Alan's patience "track record" so to speak.
2-
Airplanes crash.
They do, and I've seen it on tv. Maybe its the insane paranoid mama in me, but I've noticed that airplanes have been crashing a lot more recently. Maybe they're all getting old... Or maybe I'm just crazy.
Like I said, Lon thinks I'm crazy lol. :P
Anyways, I have a few ideas of ways to entertain Alan in the car or plane. They are similar to my waiting room ideas, but those are fool-proof, so who can complain???
Keeping Alan distracted and not bored is like conducting a military attack, or so it feels to me some days lol. :) I have my basic distraction objects and their reinforcements, but always have this back up, sneak weapon that sometimes never appears.
For a trip with my toddler, I would have an arsenal of toys for Alan: several cars, several dudes (little action figures lol), his toy cell phone, his toy keys, and his Elmo toy. Alan only ever gets one or two toys at a time, and I rotate through them, over and over again. I watch for key boredom signs: throwing the toy, looking for something else, etc.
In addition to his toys, I would also have four or five "reinforcement" books to trade in with the toys. Alan loves to occasionally look through a whole book and "read" it to himself or whoever listens. :) I would also have another "reinforcement" of paper and coloring supplies, as well as a travel desk. I have faith that even at a young twenty and a half months Alan will be okay using a plush travel desk. Keep in mind that either Lon or I will be sitting next to him throughout the duration of the trip. :)
I'll probably sing songs with him, and get him interested in the moving background around him. As a baby and kid, I always
LIVED
for road or plane trips. I loved them, I loved being nomadic. Alan is more like his father when it comes to travelling. He hated his carseat and the car when he was an infant, and has only gotten so much better as a toddler.
And then for my secret weapons. Snacks. :) Sometimes when a toddler gets fussy, they are just a little hungry or thirsty, not bored. So I would have an assortment of healthy snacks, and a super secret back up weapon of candy for extreme distraction situations. It also helps to have an assortment of drinks for Alan, he likes to have milk or water on a whim. Weirdo. :P
My only other option to try with Alan (and I would only ever do this if he was being really crazy) is to bring Lon's portable DVD player and show him some of his favorite movies- like Cars and Wall.E lol. But this would also only be a last minute, sneak attack weapon.
Hopefully, with my combinations of so called "boredom weapons," Alan will not be that screaming child in the car or plane.
Hopefully. :)
Idea for next week's topic:
Swim Lessons for a Toddler- Sign them up for classes or teach them yourselves?