Today is a crazy day for me, I'm surprised I even get a chance to get on here. With my art classes and Child Watch combined, I work from 10 to 8 with an hour break. Ahhhhhhhhh! :) No outside time today for me, unless I convince everyone to go outside at daycare. Which I might... :P
Here's Top Ten Tuesday! Enjoy!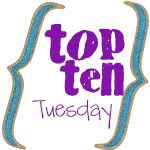 My Top Ten Favorite Bloggers!!
Before I start this list, I want everyone to know that I read like 100+ blogs a day lol. So if you made it to this list, at all, your pretty special in my book. :D But this are my favorite bloggers, who I probably check their blogs at least once a day. Some of them I acutually know, and some are just blogging friends. But they all are wonderful ladies with amazing stories to share! Check them out! :D
#10
Jodie@
Its All Good in Mommyhood
I love this gal. She makes me laugh almost all the time! :D She is a bit older than me and has three more kids than I do, so I like to go to her blog for advice sometimes. Or for just a good belly laugh.
#9
Leslie@
The Campos Family
I know Leslie, she is one of my WTE sisters. I love her family and her boys very much, and am so excited that she is expecting a girl this time! I love to read her blog to catch up on their daily life, as we don't always talk as much as I'd like to. But nonetheless, I love her and her family.
#8
Holly Ann@ Twins Plus One: Three Times the Fun
I think that Miss Holly Ann is very, very, VERY brave lol. I thought just watching my son with a friend of his was hard, I could never imagine tackling three at once (Well, maybe just not now lol. Who knows when I'm older?). I love her craziness though and am always checking up on her kids' shinanigans.
#7
Jana@ The Meanest Mom on the Block
I have to argue with Jana a little on her title, I do not think she is the Meanest Mom on the Block, but perhaps the funniest? I tune into her blog on a daily basis to get my laughs. Her children and husband are crazy! How she makes it through each day baffles me. :P Well only kinda lol...
#6
Mrs. Brogdon@
Our Growing Family
I just love this family! They have three wild boys all under three, and they are some of the cutest little blonde boys you have seen! I love to tune into their crazy stories almost everyday. I love the current post they have about their little monkey boy. Too cute! Check it out!
#5
Tales of a Young Mama
I love this mama! I find her very interesting because she is obsessed with Sweden, and I am obsessed with Denmark and Germany myself. :) She is also one of the closer blogging mamas I know. I would love to someday meet this mama, that is if she doesn't move to Sweden first! Her son Jasper is too adorable and I love his long hair! We are actually styling Alan's long hairdo after his.
#4
Mama M@ My Little Life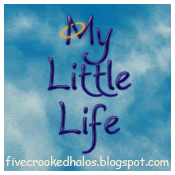 Seriously, Mama M is my hero! Five kids and one wild husband, she is a superhero. In ten years, I hope to be as well off as she is now! She can really make you laugh too, her kids say the funniest things! I check Mama M's page like three times a day lol, always checking to see what her children are up to. I love this woman so much! <3 You could say I'm a little obsessed.
#3
Kristine@ Team Ewan
I feel so much for Kristine. She has gone through so much in only a year, and she has become so strong. I started following her blog the day after her son's passing and have fallen in love with this woman. She is expecting again and moving to Florida, so I check on her page probably twice a day. She is another hero of mine as well. To have gone through so much with her son, I just couldn't imagine. I wish her and her husband nothing but the best! She deserves it!
#2
Neyesha@
Mason's Journery: Our Boy with a Special Heart
Neyesha is also a CHD mama. Her heart baby Mason was also born in September, just in 2010 instead of 2009. She also has an older boy, Carter. Between a two year old and a heart baby, Neyesha never gets a break. This mama is such a strong mama as well, I always feel so humbled by her. :) I check her blog everytime I am on mine these days. You could say I'm a little obsessed with her family, but I love them so.
#1
Jill@ The Real Life of a Red Head
Aww Jill. My first and favorite blogger. <3 What can I say about her???? She is a wonderful mom to her kids and has been through so much with her youngest, Joshua. Unfortunately, Joshua passed away on my husband's birthday, the day after I started following her blog. He was a CHD baby as well. :( Thankfully, Jill and her family are much stronger people now. And she is expecting again! :D I wish her and her family nothing but love and happiness. They deserve it!