Today is another hot one lol. Ugggggh! Today we probably will go run through the sprinklers at Grandma's house and then I work from 2 to 7. Not too busy of a day lol. Tomorrow we will be going on a playdate with two of Alan's friends at Sacajwea Park, and then we will be going swimming at Rose Park with Grandma, Unlce Kalvin, Erica, and Korbin. Keanu will probably also be there, but he won't be swimming lol. :) And then Sunday we plan on taking Alan to see Cars 2. The Symphony in the Park is also Sunday night, which we will be attending with my YMCA crew (Erica and kids, Sarah and kids, and Kari). Lets hope this weather stays nice and not too hot because we will be outside almost ALL weekend. Yahoo! :D
I can't wait to see this movie! They are going to Japan! Sooooo cool!
Via
Oooooooh can't wait for this weekend! Saturday get over here!!! :P Ahhhhh, he's Five Question Friday for you now.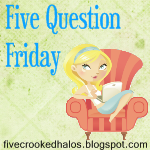 What is your current favorite tv show?
I don't really have a specific favorite tv show but right now I'm really into Family Guy, American Dad, and Futurama. We've been only really watching funny adult cartoons lately. With all the stress of life lately, we are only in the mood to laugh when watch tv. :)
I used to be really into Full Metal Brotherhood, but the season ended last week. I will probably still watch the reruns on YouTube for another month of two but will have to wait for the next season (Hopefully there will be!!!).
What's the worst haircut you ever got?
When I was little, I decided to cut my bangs. Only the exact moment I decided this, my bangs we clipped back into my hair by little barretts. So when I cut my hair, it fell out of the barretts and onto my forehead, creating TRIANGLE bangs. :P Oh boy.
My mom took me to my Aunt's house, who was a hairstylist, and she cut my bangs really short to make up for the triangle.
The worst part? Class pictures were that week. Gaaaah! :P
What was something that you did as a child that you thought you were so cool for doing?
Operating machinary lol. Now before you think my parents were crazy for allowing me to operate machinary, please remember that I live in Montana.
In Montana, it is commonly seen as a "coming of age" thing to learn how to drive a tractor, boat, fourwheeler, etc. when you turn about eleven or twelve. Now of course, I was always supervised (that first year before I got really good at driving lol) so its not that crazy right?
Right???? :)
Do you have any GREAT frugal family fun tips?
Go to a park!
They are free, completely! And if you go to a different one each time, you can make it into a wonderful family adventure! There are always so many parks in every town, and every park is cool!
This year, my family made a promise to ourselves and especially Alan that we would go to a different park at least three times a week! We have kept that promise so far in June, and plan to continue the rest of the season! We love parks!
Would you drive across country if you had the money to fly?
Yes we would.
As much as I love flying (and I do, I'll have to write a post someday about all my dance company trips), these days when I turn on the tv to another plane wreck somewhere I can't help but remember what a friend of mine used to tell me,
"Planes are dangerous for one reason, humans can't fly. In a car crash or fail, if you survive the intial crash, you can walk away. In a boat crash or fail, if you survive the initial crash, you can swim away to safety. But in a plane crash or fail, if you survive the initial crash, you cannot fly away. And you sure won't be walking away either."
Lol now that sounds a little wild and crazy, but I do hear some clarity in it. Even if we had the money, we would most likely drive the distance. Just because I know that we would be in control of the vehicle, and would feel more at peace with it.
Nothing against any of the commercial pilots, I just don't want to have to worry about Alan in a plane crash with us. No thanks. :) And I would stress, the
WHOLE
way. I'm a worry wort like that.
I hope everyone has a great Friday and a wonderful weekend! I know we will! Check back tomorrow to see how our Saturday went! :D Peace!