I hope today is another warm day like yesterday, because we will be spending ALL the time we can outside. I have two art classes today and I work in the daycare from 2 to 8, but the rest of our day will be spent outside in the sun!
I also hit 3000 page views yesterday! I have been averaging around 100 views a day, how awesome! Thank you to all my readers and followers. I appreciate it endlessly! I love you all!!!
Here's my Top Ten Tuesday- can you tell what my mind is on??? :)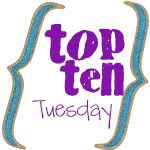 Top Ten Dream Vacation Spots (that we will one day visit!)
#10
Utah
Lon is originally from Utah, and the majority of his family lives there. They have all come up to see Alan several times since he was born, but we would love to go down there to visit them one of these summers. And we'd take Alan to Lagoon!
#9
Las Vegas
Via
This August, there is a WTE September '09 babies second birthday get together in Las Vegas, and we would just
LOVE
to go! I have been to Las Vegas twice before as well, and I just love the city so much! Alan would have a lot of fun in Vegas with me, I know all the cool family-friendly places. :)
#8
Seattle
At the end of this month, Alan's BFF Korbin and his family are moving to Seattle. We will miss them all like none other, but the one good thing is we now have an excuse to go to Seattle! We hope sometime next summer or the one after that we will be able to make a trip to visit them.
#7
Denver
Via
I have family in Colorado, in the Air Force specifically. The last time I saw them was two summers before I had Alan, for the fourth of July. I love my cousins so very much and would love to go down and visit them. Plus, I have been to Denver before and love the city very much. We would also have tons to do there!
#6
Alaska
I also have family in Alaska, my uncle the oil rigger and my aunt the veteranarian. And my cousin David and his little boy, who's a month younger than Alan. My aunt and uncle have three wonderful boys as well, the youngest only a year or two older than Alan. My grandma and a couple other family members make yearly trips to visit them, and I envy them everytime I look at their pictures. I would love to take my boys to Alaska, to see the wild and play with other boys lol. It would be magical.
#5
Bonnaroo
Via
This is a festival that I have
wanted
longed to go to since I was in high school. This festival has some of the most versitile, best bands ever and has a great hippie enviroment. I would love for Alan to go with us, but for us to do that we will have to wait until he is 5 or older. But I would love for my son and husband to see the wonderful celebration of beauty that is Bonnaroo. :)
#4
Mall of America
I went to the Mall of America on a road trip for my nineteenth birthday, just a month before I met Lon. And the Mall of America is the coolest mall ever! We would want to wait until Alan was like 3 or 4, but then it would be an awesome place for him to check out! Alan would love to play in the Lego World, go to the Nickelodeon Theme Park, check out the aquairium, and eat lunch at the Rainforest Cafe. Not to mention all the cool shops there! We would be able to make a whole trip out of it lol!
#3
DisneyWorld
Via
Disney is one of my favorite children's companies and DisneyWorld is my perfect idea of the greatest children's theme park. I went there for dance when I was fourteen, and I have daydreamed of going back since! There is something there for everyone, no matter how old you are! I cannot wait until Alan is like six or seven, we will all go on vacation to DisneyWorld! I think I might be more excited about it than Alan is. :P
#2
Denmark
Andersen is a Danish name lol. Alan is half Danish, Lon's half. :) I think that when Alan is 12+ years old, it would be interesting if we took a trip to Denmark to learn about our heritage.
I'll be honest with you, I know almost nothing about Denmark, except that they were vikings lol. So I would be so interested in learning about the traditions and heritages as well!
#1
Germany
Via
On the other hand lol, Kimmel is a German name. Alan is also half German, my half. For the same reason as #2 was, I think going to Germany for vacation would also be cool. But I actually know a lot about Germany lol, as I am German.