Hey, hey, whaddaya say? What we gonna learn today?????
Sorry lol, I'm watching Sid the Science Kid with Alan right now while we have breakfast. :P This is his fourth favorite show, just behind Seasame Street and Yo Gabba Gabba and Dinosaur Train. I think its so great that toddler's shows these days are teaching them more advanced things like hypothesis and experiments. Alan kept saying "Perimint" all last week, and this morning I realized that he was trying to say experiment! Wow that's a five dollar word for a toddler to be saying! And we owe it all to Sid the Science Kid. :)
Here's this week's Toddler Talk Thursdays! Hope you enjoy it!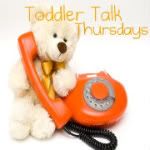 This week's Topic:
How do you keep your toddler busy during the summer?
Alan is a crazy active toddler. He has so much energy we have to wrestle with him at night sometimes just so we can wear him out enough to want to go to bed, and then we normally end up wearing ourselves out instead. :) So we have a lot of things that we do to keep him busy, and it gets easier in the summer with the nice weather.
In the summer, we spend a lot of time outside. There will be days were the only time we are inside is when we use the bathroom or go to bed. :) Some things that Alan likes to do outside are: playing catch, kicking the ball, sliding down a slide, playing follow the leader, swinging in a swing, running, playing hide and seek, riding his tricycle, playing in the mud, doing a scavenger hunt, running through the sprinklers, playing duck duck goose, riding his tractor scooter, swimming in the pool, playing in the dirt, jumping, playing with his cars, exploring the outdoors and playing tag.
This is the Big Sky however, and sometimes (even in the summer) the weather is poopy. Thanks to the winter season though, we have a lot of indoor activities that Alan also will participate in. Some things that Alan likes to do inside are: playing cars, coloring and drawing, running around the house, playing duck duck goose, dancing, reading stories, playing hide and seek, swimming at the Y pool, painting a picture, playing follow the leader, singing songs, wrestling, and playing house.
As you can see, we have many more outdoor activities than indoor. But hey, we're hippies. :P
Idea for next week's topic:
How do you teach music to your toddler?