I am super exhausted from today! We just got home for the first time since like ten this morning and I am just beat!! :) My feet are killing me and I feel like I carried twenty men, instead of just one toddler. I could very well possibly be sunburnt. And Alan? He's still running laps around me lol. Ahhhhhh, where does all that energy come from???? :D
We did have such a wonderful day today though! It was all worth it!
This is funny: I let Alan pick out his clothes again today, and in spirit of the Cars 2 movie he chose a Lightning McQueen pajama shirt and Cars swim trunks. :) We let him wear it the whole day, we are such awesome parents!
Anyways, the morning started with Alan and I waking up early to watch Cars lol. You know, we had to refresh our mind from... yesterday when we watched it. :P Then we went and got the tickets. Alan was so smart he started asking, "Cars? Cars?" when we were walking up to the theater. Little did he know we were only getting tickets and he was very unhappy about that. Wouldn't get into his car seat until I promised him that I'd take him to a park and play. Little stinker. :) I decided to take him to Rose Park, as it was the closest park I could think of.
On our way to the park however, Alan started asking to eat and I realized it was lunch time. So we stopped at home and made a few sandwiches for the park. Then we went ALL the way back out to Rose Park lol to have a picnic and play.
Alan would hardly eat anything at the park, he was too interested in playing. He thought the picnic tables were cool, but wouldn't sit still on one long enough to take a bite. So I inhaled my sandwich and we went to the playground. At the playground, Alan and I slid down the slides, swung on the swings, climbed through the playground course, and chased other kids. Three boys around Alan's age started to play tag with him, so I stood back and watched. They were so funny, the four of them! Alan even was "it" for a little bit and he loved it. He thought it was so funny that the boys kept running away from him, and forgot to tag anyone! Too silly! :)
Then it started to thunder and rain lightly, so we headed to the car. Luckily too, because on the way home it started raining real hard! Alan wasn't impressed with me and threw a little tantrum, but passed out cold on the ride home! :) He got in a good hour and a half nap before the movie.
Cars 2 was so good! I'm an old fashioned gal, so I like the first one better, but this one was still really great! I won't give too much away... They go to Japan, Italy and London for a three part race and Mater is involved in some James Bond style work. Totally cute movie. :)
This scene was cool! I like how Pixar has cars work human machines or computers! So interesting!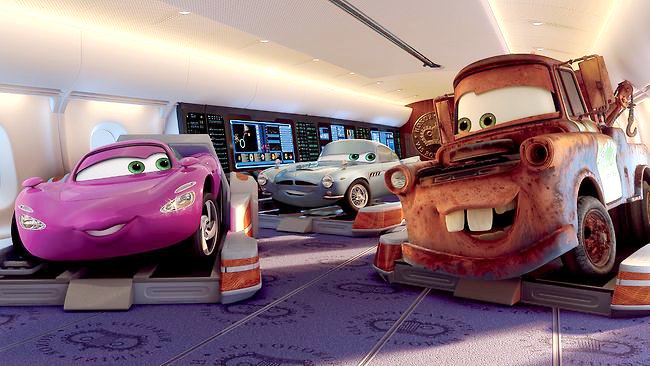 Via
And how did Alan do? He just
LOVED
it, every second of it! We let him bring one of his cars, and he chose Mater. So he spent almost the whole movie driving Mater around everywhere, while yelling and laughing. Thank goodness its a kids movie. :) But I was so proud of my big boy for sitting through the whole movie.
Had to add another picture! So cool! Some of the cars could even shoot guns! How weird right? Lol very James Bond. :)
Via
Then we met up with Erica, Korbin, Sarah, Haley, Anthony and Nicci at Pioneer Park for the Symphony in the Park. The Symphony in the Park is an annual event put on by The Billings Community Band and the Billings Symphony. This year was its 39th year. It is our fourth year attending, and it was great! Because of the movie, we missed the Community Band's performance but we arrived in time for the Instrument Petting Zoo. After checking it out, I decided Alan was still too young so we played at the park. Then we went back up to our blankets to listen to the Billings Symphony. Everyone else had to leave for dinner, so Alan gave Korbin goodbye kisses. :) Too cute!
The Billings Symphony was amazing! We were able to hear them play four songs and both boys loved it. They performed the Cowboys, The Sound of Music Medley, a John Phillip Sousa song that was conducted by a child, and a beautiful violin solo whose name I missed. All the songs were really good, and at one point Uncle Kalvin and Alan were conducting with their licorices! It was so cute, I snapped a ton of photos. My little hambones. :)
We also got really lucky and ended up sitting behind my friend Chelsey and her family! We went to
their wedding just last week.
I didn't recognize them until their son Colton walked around behind their chairs and waved at Alan. Oh it was so cool to sit near them!
Today was a great Family Sunday! What a perfect way to relax from the busy week and get a chance to be outside for a bit. I am so grateful that I am able to spend time with my loved ones. :) What a awesome day! Tune in tomorrow for Motivational and Meet Me on Monday. Love you all! Peace!